Marie's Corner launches 'Art Seat', an invitation to artists to personalize their chairsButler by Oli B.
The leader in tailor-made sofas has invited Oli B. to express his art on one of its new models. The "Butler" swivel chair has been dressed in the colours and street art style so characteristic of the Belgian artist, a unique and original piece with pop colours flirting with graffiti. This first creation marks the beginning of a concept of collaboration that the Belgian House wishes to renew with artists from different horizons. Oli B.'s work will be on display throughout the year at the MC Project Store at Le Bon Marché in Paris during their "170th Anniversary" exhibition in September 2022, and at private events. Finally, it will be auctioned at the end of the year for the benefit of a charity.
Marie's Corner has always made customising its armchairs its trademark. Since its creation, 30 years ago, the Belgian company has given everyone the possibility of choosing the finish of their model: choice of fabric, type of stitching, range of species and colours for the legs, etc. The thousand finishes offered by the brand offer an infinite number of combinations so that everyone can create their own armchair according to their tastes and desires. In doing so, each customer becomes an artist by projecting their graphic universe onto the white canvas of the brand's exclusive models.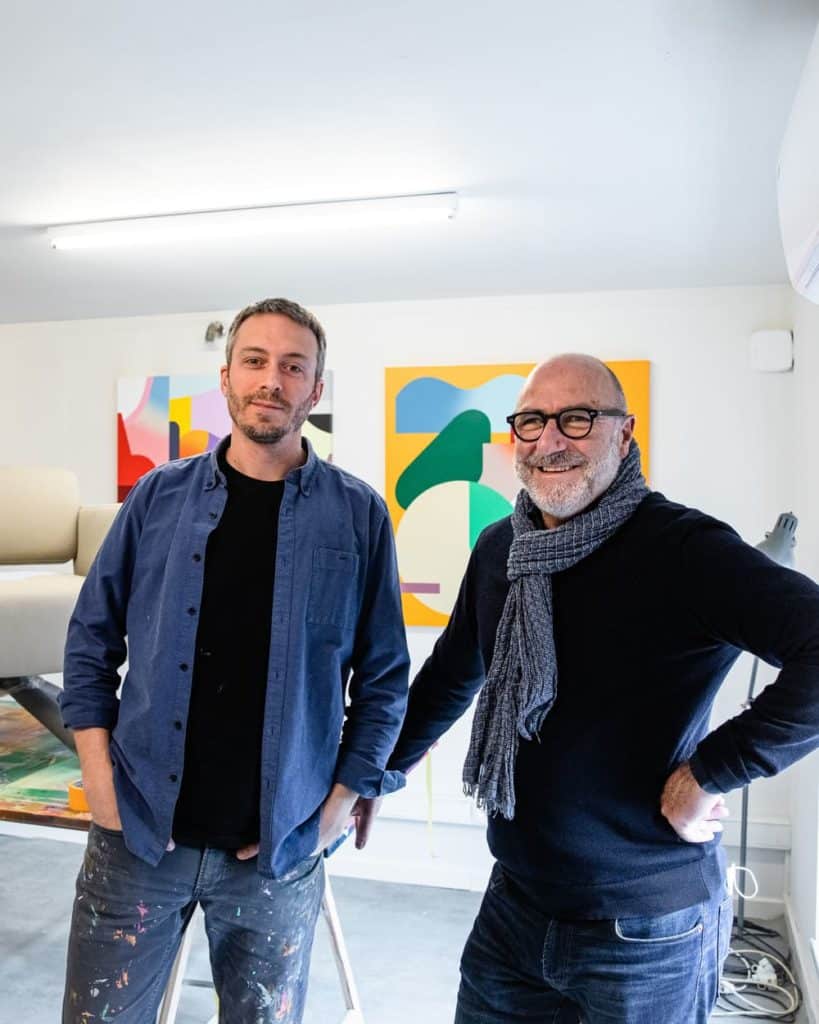 Art Seat, on the boundary between interior design and Art !
Driven by boundless creativity, Serge Silber and Philippe Vanhemelen, who have been at the head of Marie's Corner for the past 7 years, wanted to take the idea of personalisation to the extreme by asking artists from different backgrounds to do the same, which has led to "Art Seat". An invitation to artists to transform Iconic Marie's Corner iconic models into piece of art.
A concept that will be repeated year after year and that should, in the long term, result in a collection of unique pieces of Art. "We found it interesting to combine our craftmanship with a purely artistic environment. The border between the 2 universe is very thin when you think about it.
It allows us to create a contrast with our usual design. We wanted to explore a more urban and arty universe, where we are less expected," says Serge Silber, CEO of Marie's Corner.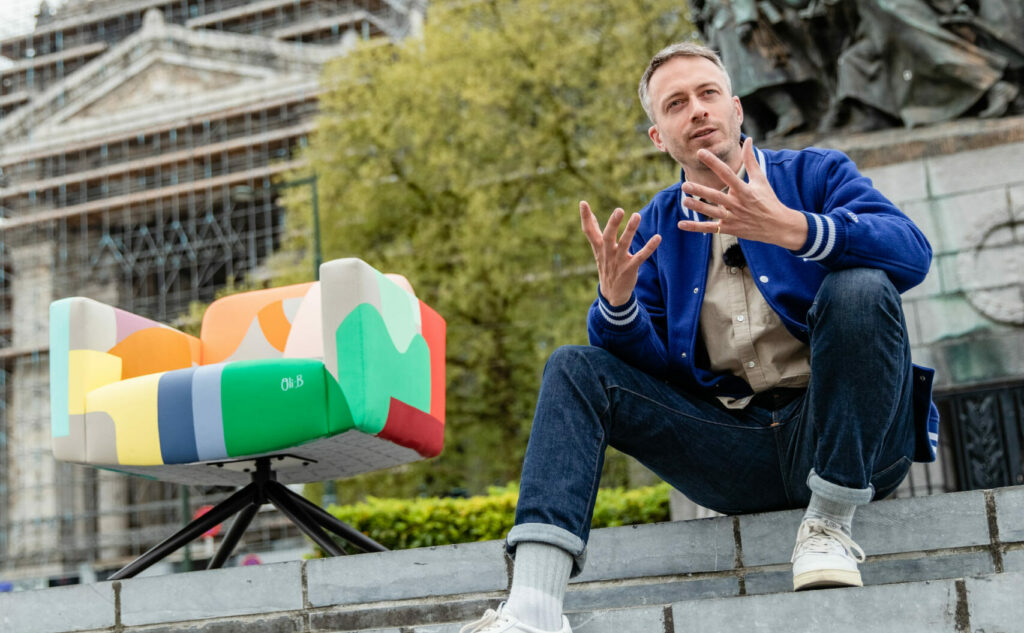 Butler by Oli-B.
To launch "Art Seat" Marie's Corner has approached the Brussels based artist Oli-B.
Known for his wall murals, his abstract and decorative forms filled with bright colours, the young artist unveils a dream-like universe, where harmony and hope are combined and both flirting with urban and contemporary art. For more than 10 years, in addition to numerous national and international collaborations, Oli B. has brought his art to life by integrating it into the urban jungle through large-scale mural painting in Europe, the United States and of course Belgium. Oli-B urban art has been warmly welcomed by the public as it brings a great enhancement to the public places and areas.
« I discovered him at one of his exhibitions and he caught my attention with his geometrical shapes that are not really geometrical. He had a sure taste for combining distinct elements and colours. It spoke to me because that is also our daily job », says Serge Silber.
Although crowds and public spaces are his usual playgrounds, the artist did not hesitate to take up the challenge set by the Belgian brand.
« I like to blur the lines because decorative objects are playful media. Martin (Curry Ketchup agency) approached me and said that Marie's Corner was looking for an artist to paint on one of their chairs. I knew them by name and thought it was an exciting idea » says Oli-B. The artist, who has always enjoyed expressing himself on a wide range of media by combining techniques (acrylics, spray paint, but also digital printing or silk-screening techniques on a wide variety of surfaces, including canvas, paper, wood, walls or even 3D volumes), found a new playground in which to express himself fully.
A collaboration as a matter of facts
Butler by Oli B. is the result of a real exchange, a constant dialogue between the brand and the artist. «They asked me to work on their iconic Butler pieces. And on my side, I asked them for fabric samples. I wanted to choose the shade and material that would best suit my acrylic work.»
The artist explains that, like the rest of his work, he painted in total improvisation. "I didn't make any preliminary drawings on a computer. I like to turn around the object, let myself be surprised by the inspiration of the moment, take a step back and resume later. Oli B. had as much fun as he would have had imagining a prototype to be created in series. « I worked with the plans and the different surfaces of the model. You have to take everything into account: the backrest, the armrests and the seat.». A working method that seduced Serge Silber. « C'était très impressionnant de le regarder travailler », explique-t-il, « It was very impressive to watch him work, he managed to combine colours that should not work together in theory. And yet, they harmonise perfectly under his fingers. ».